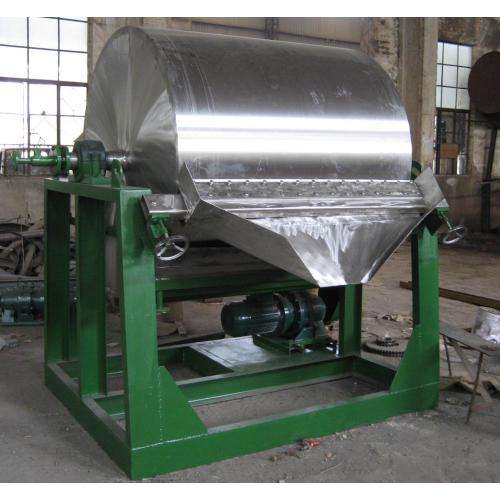 DRUM FLAKER are used to convert molten products into solid in to  continuous operation. Molten feed adheres on to the outer surface of rotating drum through feed tray / applicator Roller. To avoid solidification of feed melt on the tray, it is provided with limpet coil or jacketed provision to maintain the heating by steam, thermic fluid or hot water. Drum is internally cooled by spraying chilled / cooling water through spray nozzles. To avoid leakage of cooling water medium,  PTFE rope or Mechanical Seal is provided for rotary joint. The product solidifies and after completion of rotation of drum scrapped off the drum surface to form flakes.
Cooling drums and other feed contact parts: They can be decided as per constituent  properties of feed product & choice of end user. In case of process requirement the cooling drum can be chrome plated.
Material of construction of contact parts:Carbon steel, SS 304, SS 316, SS 316 L , others upon request
Cooling Drum Sizes: 0.5 Sq.Mtr to 30 Sq.Mtr.
Single Drum Flaker- Bottom Dip Feed
Single Drum Flaker- Bottom Applicator Roller
Single Drum Flaker- Overhead Applicator Roller
Double Drum Flaker- Nip Feed (others upon request)
Scrapper Blade arrangement: Manual hand wheel / Pneumatic / Hydraulics
Scrapper Blade MOC: Hylam, Phosphor Bronze, Magnesium Bronze, Brass , Food Grade Teflon and others
Product Collection: Post solidification of the feed material the flakes can be collected via product collection chute or hopper or gets discharged via lump breaker /screw conveyor discharge outlet which can be  directly  filled into drums orbags.
Compliance: We can manufacture the drum flaker equipment as per GMP and Food grade compliant in case specific requirement from customer.
Drum flaker Machine
Item No.

Specification

mm

Motor Power

Kw

hot Barrel speed

r/min

Size (mm)
L
W
H
DZ-1
600×600
2.2-3
0.3-15
2400
1480
1410
DZ-2
800×1200
3-5.5
0.3-15
3360
2000
1600
DZ-4.5
1200×1200
5.5-7.5
0.3-15
3730
2250
2050
DZ-7.5
1400×1800
5.5-11
0.3-15
4460
2460
2350
DZ-9
1600×1800
7.5-15
0.3-15
4460
2600
2550
DZ-22
2300×3000
11-18.5
0.3-15
7200
3900
2350
About Cooling system:
To congeal a molten product the crystallization heat of the product must be removed. This is transferred via the drum flaker's wall. The heat is relayed via the drum body to the cooling agent, which is usually water. The cooling water is sprayed with a special spray pattern against the inside of the drum using a central spray pipe.